Guitarz 2012 calendars are now available...
Submitted by glw on Sun, 09/18/2011 - 11:33.
The calendars are A3-sized (420 x 300mm), beautifully printed on 170gsm silk coated paper, and feature brand new exclusive photos of 13 weird and wonderful guitars and basses as submitted by readers of Guitarz (the original and longest-running guitar blog), including our very own Bertram's "Doppelcaster" twin-neck Tele on the front cover.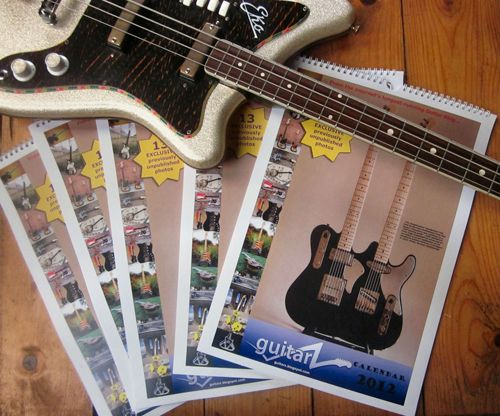 The Guitarz 2012 Calendar would look great on the wall of your den or rehearsal space, and would also make an excellent present. After all, we all know someone into guitars, don't we? I hate to be the one to point it out, but Christmas is only a few months away, so why not get those Christmas presents in early?
£8 per calendar PLUS post and packing. So that makes it £11 for the UK, £12.50 for Europe (that's around €14), and £15.59 for the USA and the Rest of the World (approx USD$25 ... sorry guys, but postage costs nearly as much as the calendar itself)!
Prices quoted include postage and packing for each country.
BUY ONLINE: http://guitarz.blogspot.com/p/guitarz-2012-calendars-are-now.html
---
---