Ovation's iDea guitar has built-in MP3 player and recorder
Submitted by GSite_Editor on Fri, 09/26/2008 - 11:25.
Ovation's new iDea acoustic electric guitar (marketing guys, time to stop with the lower case i) comes with a built in MP3 player that not only lets you jam along to backing tracks, but also record directly to the guitar.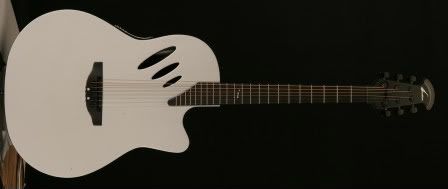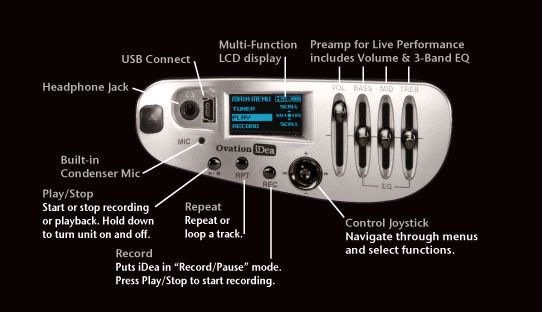 The recorder lets you record from the preamp and a built-in microphone -- so you can capture vocals as well. It can store around 100 minutes of audio.
For playback you can play through headphones or amp, and tempo can be changed with out changing the pitch.
When will it be released? That I don't know.
Here's a video of it in action:
http://www.blinkx.com/video/ovation-idea-guitar/eCJO84NkNbQilvgW3mfOjQ
Website: http://www.ovationidea.com/
Related News:
Ovation Applause Elite AE44
Ovation Proto Limited LT-60

Feature Article
We all love the sound of a cranked tube amp, but it can be too loud in many situations. This is what power attenuators are for - reducing the loudness of your amp while retaining the cranked tube tone.
Acoustic Guitar Guides
The 7 Best Cheap Acoustic Guitars
Whether you're looking for a student guitar, or simply a low-cost alternative to your main instrument, you'll find exactly what you need here in the $100 to $200 price range.
The Best Acoustic Guitars Under $300
From impressive standard sized, to small and parlor-sized acoustics, there are plenty of quality guitars and well known brands to choose from in the sub $300 price range.
The Best Acoustic Guitar Straps
The different kinds of straps explained for different types of acoustic guitars along with a recommended list of the best strap options for your situation.
Best Acoustic-Electric Guitars Under $1000
Spending a grand on a guitar is serious business, so before you order, here are 11 acoustic-electric guitars that we believe are more than worth their price tag.
The Best Acoustic Guitar Amps
We have taken a good look at the best acoustic amps, amplfiers with "wooden hearts" that faithfully reproduce minute details of your acoustic guitar sound and playing.