Memphis Guitar (Explorer Style) HELP Identify!
Submitted by FretSpider22 on Fri, 06/13/2008 - 09:01.
Ive got this Memphis Guitar that I got from a friend. Ive always wanted an explorer or explorer style guitar. this one actually sounds pretty good with some pickups in it that look to be duncan distortion pickups but I havent removed them yet to check them out. The maple fretboard shows its age,the frets have little wear though. The guitar sounds nice and has a nice weight to it. for this guitar to be a great player Ive just gotta put some new strings on it and set it up...and MAYBE a new nut. I was hoping someone could maybe identify this guitar and give me a little info on it. Id love to know the age and everything. If someone would like to purchase the guitar after its setup or want it as-is then it is up for sale. Ive got a baby on the way and need to part with 3 of my guitars...Ive got over 14 guitars in the house ranging from gibson,dean,epiphone,fender etc. and a few knock-offs. Im gonna part with 3 for now. but any help on this guitar would be great...age,wood type,model...anything.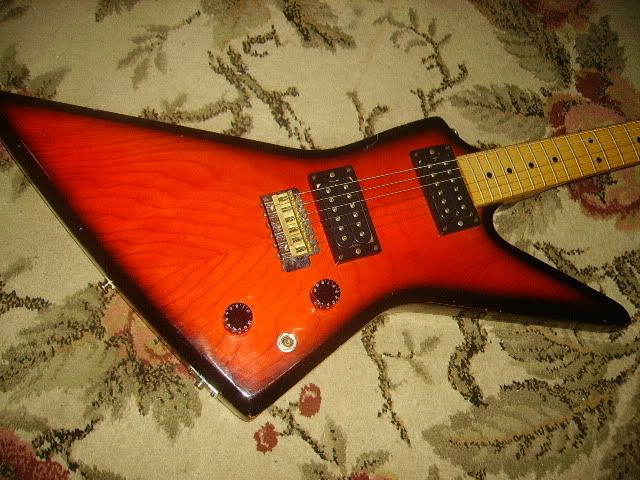 Please feel free to IM me on AIM or Email me OR send me a private message lol or post in here. Ill be checking a few times a day as I am desperate to find some info on this thing. the serial number on the original neck plate is 13430 if that helps at all (doubt it) just providing any and all info Ive got on it. Thanks-Bob
---