Girls with guitars
Submitted by glw on Thu, 08/18/2005 - 09:38.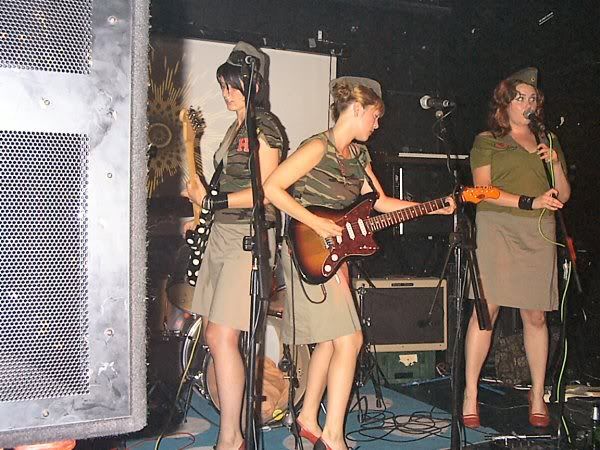 I went to see The Schla La Las last night - see http://www.theschlalalas.com/. They were great fun, if a little chaotic. They are a five piece, one drummer, two guitarists and two bassists, and all except the drummer took turns on vocals.
It seems to me that there are a lot more girl bands around these days, and I talking about real bands with instruments. A few months back I saw The Priscillas supporting The Damned (http://www.thepriscillas.co.uk/). They were really impressive, a sort of surfy/punky/rock'n'roll band. Again, great fun.
Another girl band I've been watching over the past couple of years are Brighton's Teasing LuLu (whose website seems to be dead at the moment... Oh dear... at least they can't blame me - I used to be their webmaster until their management wanted a change). They started as a punk pop girl trio writing songs like "I don't wanna be your waitress" and "Girls go guitar shopping" but in the space of a couple of years they have matured considerably and are producing some really killer tunes (however, they now have a chap on the drums - see Where Are All The Drummers thread - apparently female drummers are even harder to find).
Anyway - girls with guitars - I think it's a great thing, and I'm not talking about the likes of Katie Melua!
---