A doubleneck travel guitar? Isn't that an oxymoron?
Submitted by glw on Wed, 09/28/2005 - 12:22.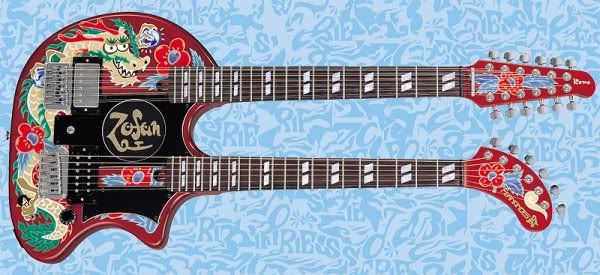 This tribute to Jimmy Page's Gibson doubleneck is part of Fernandes Guitars' new Art Rock series featuring 60/70s Rock Legend flavoured variations of their popular Nomad travel guitars (with built-in amplifier).
http://www.fernandes.co.jp/p05-artrock/index.html
As well as the Two Heaven model shown above there is another Led Zeppelin-themed guitar, the Kashmir which is a Fernandes Nomad with a Danelectro DC-50 twist (lipstick pickup, "seal" scratchplate), and also one for Eric Clapton fans, the Sunshine Love pays homage to Clapton's psychedelic Gibson SG. The series is completed with two basses - the Sunshine Love Bass and the Ladyland Bass.
As far as I am aware, these are only being produced for the Japanese market and do not appear on the Fernandes Guitars (http://www.fernandesguitars.com/menu.htm) website aimed at the rest of the world. I only found out about these guitars in the first place from a Japanese guitar magazine that a friend sent me. (I could hardly read a word of it, but there were lots of pretty pictures!)
---