Ovation Deacon - or is it a Breadwinner?
Submitted by glw on Fri, 09/29/2006 - 20:27.
As I've commented on here before, I've been looking for one of these vintage 1970s solid-body Ovations for a little while now (see my "Guitars you secretly lust after" thread), and I finally tracked down this beauty for a very nice price.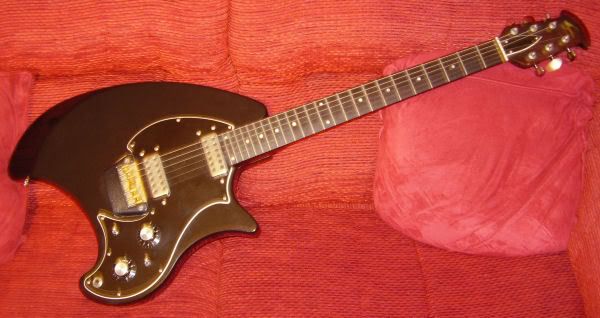 It was sold to me as being an Ovation Deacon but I'm not quite sure. The Deacon was the "posher" version of the Breadwinner and generally had a natural finish, bound fingerboard and "double diamond" inlays on the fingerboard.
Now, whilst my guitar (pictured above) has the smaller scratchplate that adorned most Deacons, it doesn't have the bound fingerboard, diamond inlays, and is a solid black in colour.
My inclination is that it's a Breadwinner with the smaller scratchplate, but I'm not 100% on this.
Any Ovation fans out there? Does anyone have any more info for me?
---
---