What's the record number of strings?
Submitted by glw on Fri, 08/19/2005 - 11:48.
Following on from the 40 Stringed monster thread, I was wondering, what guitar holds the record for the most strings?
Could it be Pat Metheny's Linda Manzer built "Pikasso" guitar with 42 strings?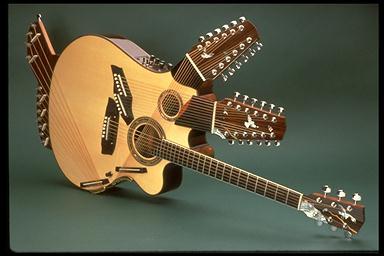 (See: http://www.oddmusic.com/gallery/om23350.html)
And how about the Sympitar (http://www.beyondthetrees.com/sympb.htm) for having a huge number of strings on a single neck? This has 6 strings as on a regular guitar + 12 sympathetic strings which run down the inside of the neck. The headstock bearing 18 machine heads is quite impressive!
Then, of course, there's the whole weird and wonderful world of harp guitars...
---